Principal's Welcome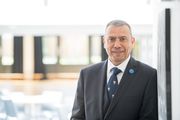 It is a privilege to lead St Mary's and St John's Church of England school and I am delighted to welcome you to our website. We are an all-through school in Hendon, successfully providing high quality education and academic achievement for children and young people from Nursery to Sixth Form.
We are proud to be a diverse, multi-faith, harmonious school, with a distinctive Christian ethos, resolute in the belief that "...with God, all things are possible". In a changing world our values; Wisdom, Service and Hope, define us, strengthen relationships with our parents and children, and provide guiding principles that enable us to deliver academic excellence and promote self-discipline and resilience.
Being an all-through school creates many unique opportunities and advantages for our students, parents and staff. Our schools share an educational philosophy which promote high expectations and consistent pastoral care. Our primary children have access to the specialisms, resources and facilities in our secondary phase, and in turn, our secondary students develop mentoring and leadership skills supporting our younger children.
Working in partnership with parents and carers is essential to ensure our students thrive, achieve and enjoy their time as members of our wider family. Together, we nurture their enquiring minds and inspire them to pursue their dreams, leaving our Sixth Form ready to excel in a future which has limitless possibilities.
Our website provides a flavour of our school, activities and ethos. I warmly invite you to come and see how we foster the potential of our students and I am confident that when you experience St Mary's and St John's first hand, you will want to join our family of schools.